In Turkey, since 2011, youth organizations join their forces under 1st December Youth Initiative to plan and implement joint activities for World AIDS Day with special emphasize on youth sexual and reproductive health and rights.
There has been 156 events for this year's December 1st World AIDS Day in 37 different cities in Turkey so far. Stands, press release, social media covering, #showyourselfie, sexual and reproductive health peer education sessions, panels and thematic film workshops are some of the events that is on the list.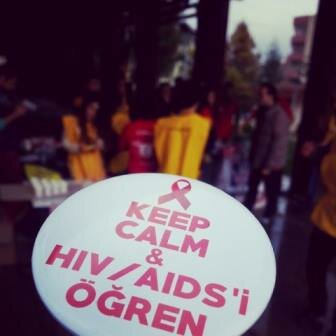 "KEEP CALM & LEARN HIV/AIDS PIN, BURSA"
At stands there were young people organized flash-mobs to get people's attention then explained important facts about HIV/AIDS, disseminating HIV/AIDS brochures developed by the initiative, played games with other young people.
"SHARING INFORMATION ABOUT HIV/AIDS, ANKARA"
Some of the organizations shared their press release with local media in order to explain their purpose to advocate for this issue.
"SHARING PRESS RELEASE, ANKARA"
During all those events power of social media -and media in general, wouldn't be missed so that Facebook pages were created to post about their activities, tweets were sent and photos & videos were shared to mobilize people on both local and national level. While doing so they gained young people's messages by photographing so that they could share them via #showyourselfie campaign.
"TWEETS WERE SENT WITH PHOTOS FROM EVENTS, PICTURE WAS TAKEN IN FRONT OF BOARD SAYS 'HIV DOES NOT TRANSMIT BY(…)'"
"AN ARTICLE PUBLISHED ABOUT FLASH MOB ACTIVITY AT MALL, SAMSUN"
Many of local organizations demanded and organized sexual and reproductive health peer trainings for youth who would like to participate these events so that it could be ensured their volunteers were sharing right information with people.
"PARTICIPANTS WITH PEER EDUCATORS AFTER SESSIONS, ANKARA"
Panels were also conducted by young people to share information such as transmission & protection ways, condoms, treatment and social discrimination HIV+ people facing. They wanted to share the message "KEEP CALM & LEARN HIV/AIDS. TAKE A STEP FORWARD AND GET TESTED TODAY."
"PANEL AT CAMPUS, DENIZLI"
About thematic film workshop; in many of the cities youth gathered together to watch films about HIV/AIDS like 'How to Survive a Plague, Dallas Buyers Club, Philadelphia'. Then they facilitated a discussion after the film as a group to look closer recent events and see dynamics of HIV/AIDS timeline.
"THEMATIC FILM WORKSHOP, CANAKKALE"