Written by
Iulia Denisa Mihai – Class XI B, Hașdeu high school, Buzău, România
Oana Mancu – Class XI G, Hașdeu high school, Buzău, România
A couple of weeks before the end of the school year 2013-2014, a group of students from B.P.Hasdeu College accept the challenge of taking part in the contest launched by the Emil Negrutiu Colelge from Turda, in partnership with the Ion Ratiu Centre for Democracy and British Council Romania, entitled "Tolerance and Cohabitation in the public space ". This contest aims at involving the high school students in activities that will form and develop the civic attitude among them, as well as a democratic and responsible growth and the promotion of tolerance. The students from Hasdeu have identified the situation of teenage mothers of Buzau as a major problem of the community and they named their project " Under the Wings of Adolescence".
We are a team of eight teenagers from Hasdeu high school Alexandru Alexandru, Alexandru Buduianu, Denisa Baroian, Teodora Kallo, Iulia Mihai, Mihai Vasile, Gabriela Valcu si Oana Mancu. The main goal of our actions is to come forward for the teen mothers, promoting a tolerant attitude towards them. Beyond this, we have been involved as volunteers in order to inform people our age who, out of ignorance, might become parents. We have benefited the presence of two coordinators, teachers Carmina Miron and Camelia Mancu, by whose side we have talked to both underage mothers and persons who know this problem in depth: psychologist, gynecologist, maternal assistant, family planning counselor. At the same time, we have introduced our project to our colleagues from the following high schools: Mihai Eminescu College, Economic High School, vocational high schools Grigore Moisil and Dimitrie Filipescu.
We have intended it as a message for the mothers. Not for our mothers, but for mothers our age, as in the UNICEF ranking Romania is sadly situated on a leading position of underage moms: 43 out of 1,000 girl teenagers become mothers before the age of 18. Last year alone 23 teenagers like us became mothers in the province of Buzau, the youngest being 13 only years old. We consider it essential that we should enjoy our most beautiful years together. Enjoy passing the exams, reading teenage books, discovering the joys of life. Having children is, indeed, one of the joys of life, but when they come a little too soon, they become a sort of pain. This what we have found out after talking to some teenage moms, young girls like us who have told us about the sadness of being marginalized. About the parents who have chased them away from home, about the colleagues who stopped talking to them not to be labeled the same, about the child's father who did not want to acknowledge the child as well as the mother.
Life Stories
Alina is a young girl whose father died when she was 5, and who grew up in a relatively ordinary environment and lifestyle due to her mother's efforts. The teenager is now holding an exquisitely beautiful baby of only a couple months in her young arms. She confesses her life is far from a bed of roses and that in the beginning she considered abortion as the only way out.
"Who helped you to make the decision of keeping the baby? My mother insisted on my keeping him. She said the burden would be even bigger if I decided to have an abortion. -"Did you tell your mother from the beginning or did she realise it along the way?" " In the beginning, out of fear, I did not tell anybody. I did not realise that later on it would be more difficult for me to conffess."How did she react? She was very upset in the beginning, but in teh end she understood."
"Did your friends understand you? I have very few friewnds left and thos ewho understand me are even fewer…At school I had the hardest time, as I was not appreciated even if I learned and I minded my business" "Do you regret anything from all that happened to you? I do, as I realise that it was not the time for me to have a baby now. Now I realise how many things I have missed. Why did you give up school? It was extremelyu hard for me, it was tiring. In a moment of despair I decided to quit. I told myself that between the baby and studies, I'd better choose the baby.
Even though it is not easy for her, Alina says she will try to get back to school again.
Roxana was 14 when she got pregnant, and now the boy is 1 year and a half old. "Does the baby's father help you? No, he would not even recognise it as his, he was ashamed too, I suppose.We had a fight when I told him, we had fights all the time and he did not want me to keep the baby.I made the decision to have the baby, to raise him on my own…Is the baby's father older? "He was 16 and a half. " – Did you have talks with your mom before you got pregnant? "Not much, we were busy, she was at work I was in school…"
What was your mother's reaction when she found out? "She found out when I was already seven months pregnant, when my aunt took me for a check up at the doctor.She could not do anything as I was her only child, she had had no boys and when she found out I was going to have a
boy… she was half happy half not so much… Can you see the difference between the girls your age and your life?"They go out, have fun, we stay home to take care of the baby.(she laughs) How are you getting on with the baby? "So and so.. I mean if there is no adult around, as he catches colds very often, we do no tknow how to manage, both being too young for that…we are too young for raising a baby…"
Madalina, Mariana, Viorica are not just girls' names, they are mothers and their ages range between 14 and 16. We have listened to them and they impressed us with their loneliness and the sadness of telling the stories of their lives. We have found, thus, the fact that that they hid their pregnancy for months in a row, that they had nobody to talk to and trust, as for the family planning office- they had never heard of it. Among the common reactions they have when they find out about their pregnancies are: fury, guilt, the feeling of not accepting reality. Many of them fall into deep depression and the baby will feel the mother's pain from the womb. What we found even more troubling were the cases of the young girls in the maternal centre. Unaccepted by their families, chased away from their family homes, abandoned by the ones they had had the child with, they stared at the blue sky and knew nothing of what their future would be like either for themselves or their children.
A REAL PROBLEM, INEFFICIENT SOLUTIONS
Unfortunately, I have often had pregnant students silently sitting in the desks in my classes, C.M., teacher at one of the high schools from our town, confesses to us. I have always felt guilty for their situation, as –to me- the role of the school is to make the young people it educates literate in all aspects of their lives, their sexual lives included. I believe that school must feel responsible and be blamed for this failure and be open to educational initiatives of the kind proposed by the students of Bogdan Petriceicu Hasdeu High School. At the same time, I think that the solution found by the state to financially support the underage mothers by paying them and the child a state allowance until the baby turns two years old is insufficient or even inadequate. If on the short term it helps prevent the abandonment of the child, thing which I do not guarantee will happen, on the long term it offers no solution to the mother in the situation of raising the child in the absence of some income she does not hold. In fact, my suppositions are confirmed by the statistics that show that most under age mothers become school leavers when this sum of money ceases to be paid.
We do hope that, by our message addressed both to the young girls become mothers ahead of time and to those directly responsible for educating and informing the teenagers, we will make ourselves heard. Each and every one of us sends you the message they consider useful in the situation in which, as teenagers, you have become mothers:
Iulia MIhai: "Talk to your parents! Eventually they will understand!"
Denisa Baroian: Keep Learning! It will offer a better future both to you and your child!
Alexandru Alexnadru: Slowly but surely people will accept you, they will not marginalize you any more!
Alexandru Buduianu: You will grow up and will understand what a mother's love means!
Teodora Kallo: Don't abandon your child! They will love you for this!
We won't judge you! We will tell this message to others, too!
Gabriela Vîlcu: There will always be someone to give you a helping hand!
Oana Mancu: Keep yourself informed! You will no longer be a victim of disinformation or misinformation!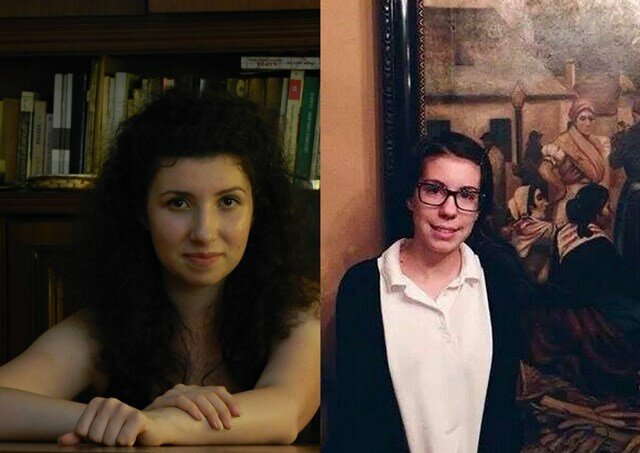 Oana Mancu: My name is Oana and, as all teenagers of my age, I think that is our role to change something in society. This is the reason why I joined this volunteering project.
Denisa Mihai: I am a volunteer because together we can bring hope and change the world into a better one.